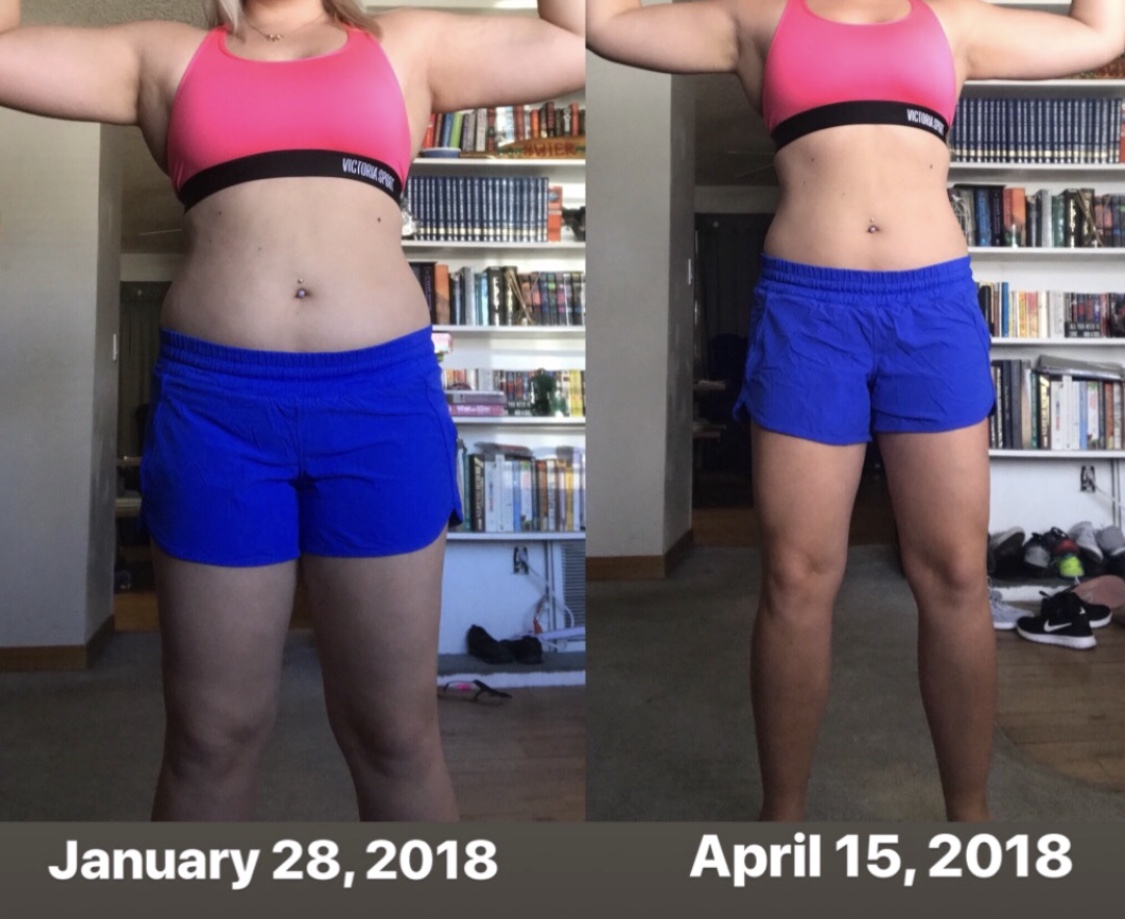 "Choosing to train with Taylor is honestly one of the best decisions I have ever made. I always thought I knew how to eat correctly and workout, but noticed I was unhappy with my body and had no idea what I was doing anymore. From day one I felt like I knew Taylor my whole life. I know she really cares about me and wants what is best for me. Her workouts are killer and she always makes me give my all. I came into this barely eating anything and still losing no weight. After just under three months, I've lost 10 pounds all the while eating well above what I thought I could ever eat! Since I have lost my goal for fat loss, we are now slowly increasing my calories every week with the intent to increase my metabolism and I am LOVING it because I'm eating more than I ever have and am at my lowest weight ever! Taylor is honestly the best person to work with, she is so knowledgeable in her field but also so personable. Not only do I feel like I've changed my life by working with Taylor but i also feel like I've gained a friend!"
-Daniela H.
"I don't have enough good words to describe my time with Taylor! She not only has changed how I look; she really changed my life. She taught me to eat healthy foods to nourish my body and what to do to achieve my goals. I lost 12 lbs in about 6 weeks and I am keeping it off and making progress every day. Taylor is the ultimate cheerleader and you can tell that she deeply cares about her clients well being. During workouts, she is motivating and is always excited to push me to my limits. I have loved working out with her and being one of her clients."
-Cienna H.
"Someone once told me that when i start working out and going to the gym, it would be my addiction. I never believed them until i started coming to Taylor for training. She is the reason i come to my training sessions 3 times a week and more and she's the reason for my motivation. I honestly believe she is the most motivating and most encouraging trainer and friend. She really knows her stuff and knows how to teach anyone how to workout and use weights and be motivated. She started from scratch with me, granted i played sports in high school but i never knew how to lift weights until she taught me and I definitely learned a lot in a only a short amount of time. She also taught me about maintaining a healthy diet which has turned into my lifestyle and has helped me lose 15lbs so far. I highly recommend to anyone that needs motivation and a change in their life to try out a training session with Taylor. The money and time is worth every penny."
-Julie W.
"I am San Diego born and raised. I am almost 25 and currently a high school math teacher in a small town. I have tried so many times before to lose weight and keep it off, but I came up short. I even tried hiring other trainers but I never seemed to be successful until I found THE BEST COACH Taylor Summer. She started me out with a custom meal plan that was built from the foods I already eat and a workout schedule to fit my busy schedule. We talked about how important it is to be consistent and I began to see results almost immediately. Taylor stayed in constant contact with me to see how my meals and workout was going. In my first eight weeks I was down fifteen pounds and loving how I was feeling. Now I am tracking my custom macros that Taylor has for me. It's amazing how much improvement I have seen in myself in the couple months that I have been working with Taylor. "
-Ciara S.
"I found Taylor through instagram and saw she trained in the same area that I attend college. I have always worked out and maintained a healthy body weight, but I never felt like I was doing movements correctly when I was working out. I had no motivation which led me to slacking at the gym but mentally made myself feel like I was getting a good workout just by being in a gym setting. Going into training with Taylor I had the goal of losing body fat and growing my glutes because once I stopped playing volleyball in high school i lost my butt and curves. I have now been training with Taylor for about 5 months and have lost 5% body fat and gained a lot of lean muscle. I've lost fat in my thighs while my glutes have grown tremendously and i've gotten significantly stronger. I'm also now able to lat pull 110 lbs. For a 10 solid reps, when 5 months ago it was hard for me to even 70lbs. She has not only been helping me accomplish my goals I want for my health and body, but she has even set further goals for me such as a bikini competition, in which I may pursue in the future. Taylor strives for one on one motivation, goals, and nutritional guidance. She has always pushed me past my limits when I am exhausted but after I feel AMAZING and I couldn't thank her more for our workouts. Without Taylor I wouldn't have been able to keep reach my goals and continue making progress within my body and health. Her belief in me and motivation is exactly why I love her as my trainer because trust me, it's hard to motivate your own self consistently. Love you Tay. thank you for all of your time and hard work you put towards me and all your clients! You're truly amazing and I appreciate you helping me grow as a person, and physically within fitness."
-Courtni D.
"I first asked Taylor to help me with my fitness journey in January 2016. I had lost about 20 pounds after moving to Texas but with that weight came muscle too. I could barely shoulder press 15lb dumbbells. Which says a lot for me considering I used to hold humans over my head as a cheerleader for 15 years. I knew I needed more guidance in my training so I asked Taylor for workouts. Slowly but surely my strength began to come back. In May 2016, I came home from Texas and knew in order for me to keep up with fitness I was going to need someone to hold me accountable. Sure enough, I called Taylor. I would work out about 6 days a week and most of the time Taylor was there to "train" me. Of course, she was my friend so to her she thought we were just friends working out but to me it was so much more than that. I learned so much from her, from eating habits to muscles groups to train and how to train them properly. My head was being filled with fitness knowledge and before I knew it, I was able to workout solo and still get a kick ass workout in. Taylor went through two competition preps while I was working out with her and to see someone be that dedicated to something was so inspiring. I would watch her kick ass in a cardio session after just killing her legs on leg day and think "wow, this girl has drive." Not long after that she quit her job to go full force into the fitness industry. I was so impressed with her and her determination. It made me want to be more dedicated to fitness and this lifestyle. So in March 2017 I asked Taylor if she would help me. She without hesitation agreed to it. She gave me my macros and cardio plan. I checked in with her weekly and we changed things regularly to match my goals. For 3 months, I was on a plan with her and it changed my life. Since then, not only do I have a better understanding of food and how it affects your body but I also have a better understanding of the fitness lifestyle as a whole. It takes dedication and hard work but it is also so rewarding. I would not be where I am today in my fitness journey without the help and training from Taylor. She has and will always be my inspiration to continue this journey."